"He who is better informed is usually more successful"
Benjamin Disraeli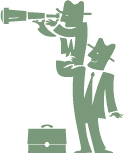 Marketing research is the field where our company started and where it boasts solid expertise. We conduct the following types of marketing research:
Research of consumers/consumption patterns
This is the more widespread type of marketing research, yielding a profile of your typical consumer, his wants and needs and his opinion about your products or services. This information will help you decide what products to make, where to advertise, where to sell them and at what price so as to ensure steady demand and high profits.
Competition/competitor research profiling
This type of research will inform you about the strengths and weaknesses of your competitors, anticipate their imminent market moves, and prompt you on preemptive action to stay ahead of competition.
Assessment of market environment, trends and outlook
This type of research study will provide facts and figures to develop your medium- and long-term business plan. It will tell you how demand for your products is likely to change in the next few years, in what way competition may change, what pitfalls may await your company in the future, and what options and opportunities it may want to leverage.